DO NOT HOTLINK. DO NOT TAKE OUT OF 2ONEDAY.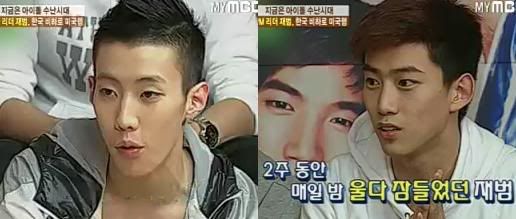 QUOTE
JYP Entertainment speaks up about 2PM leader JaeBum's decision on whether he will return to Korea, "He has not said anything."

JYP representative responded on MBC 'Happy Day' aired on 14th September about the question to whether JaeBum will return to Korea, "JaeBum's decision to go back to America has nothing to do with the company. He has not spoken about what are the future plans."


Also on 'Happy Day' aired today, the trainee live of the 2PM members were also revealed.

On the show, JaeBum was shown saying, "(During trainee days), I can't speak Korean, and I was not used to the food. It was tough. Also, it was tough being alone in Kora without my mother."

Then another member TaekYeon added, "Back then, it was so tough for JaeBum that he cried going to sleep."
credits: sookyeong, 2ONEDAY (Re-up)
Side Note:
I can only tell you all to keep fighting for Jay.